Having visited Cuba more than a few times in my life, my most recent trip back to the island felt much like a reunion with an old friend. No matter how many times I visit, I remain convinced of the veracity of my very first observation: while this Caribbean island may be small, its size belies the heart and vibrancy of its people and culture. Cuba is steeped in fascinating history and tradition, its colonial architecture and antique cars an anachronistic monument to the country's embrace of both traditionalism and modernity. While I always find something new to appreciate whenever I wander Havana's markets and galleries, I got the distinct sense that things would be a little different this time around. To borrow the parlance of describing a quality cigar, this was an adventure that ended up being both savoury and thoroughly memorable.
I arrived, as I always have, at Havana's José Martí International Airport, named for the famous poet, journalist, and professor venerated throughout the country as a national hero. The weather (while hot) was tolerable, lacking the humidity that so often ruins an otherwise perfect day. As I passed the familiar rows of vendors selling the usual Cuban memorabilia, I was followed by a gentle and comforting breeze. There, among a mountain of shirts, hats, and miniature flags, I spied the distinctive bottle that I had travelled to Cuba for: the tall and dark silhouette of Havana Club.
What follows is a record of my experience learning about rum (and everything else) in Cuba with the Pernod Ricard team. I want to offer my particular gratitude to the upstanding Alexander Lorenzo, who had been sent by Pernod Ricard to escort me to the Kempinski Hotel. If you ever need a driver in Cuba, Alexander has my vote of confidence.
TAXISCUBA
Name: Alexander Lorenzo
Tell: 5-294-5463
Email: alextaxi76@nauta.cu
Overlooking Parque Central, the newly built Kempinski Hotel is Havana's first five-star hotel – a true gem in my eyes. For those who appreciate architecture, the hotel is situated in a 20th century historical building in the heart of Old Havana. Ideal location aside, the hotel is just simply beautiful inside and out, complete with contemporary décor, vibrant colours, and (of course) a cigar lounge.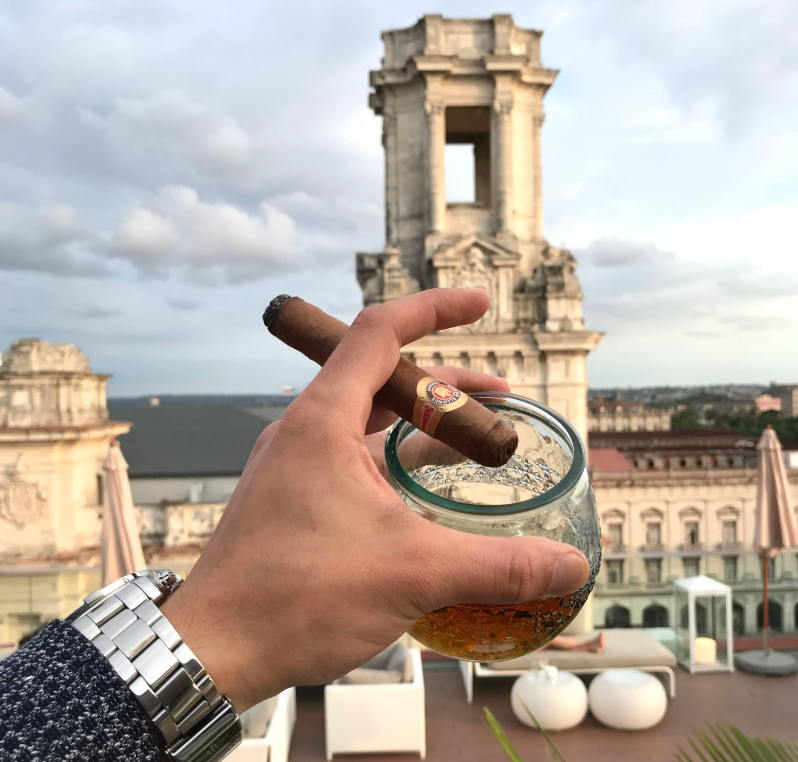 The First Day
I woke at 9 am sharp to meet the Havana Club crew in the main lobby: Dominic J. Bergamin, Aleksandar Stipcic, Ana Carugati, Guillaume Tesson, Pierre Jourdan, Dirk Alkemade, Fabio Ballestracci and Alexandr Gorokhovskiy. Each member of this impressively diverse team had come from different parts of the world to share in the experience Pernod Ricard had planned for us.
We were whisked away to the distillery in San José where Havana Club produces all their aged rum. The courteous staff gave us the honour of a tour of the entire facility. Heavily industrial in some parts and outright deafening in others, the pace and intensity of the work at the distillery often makes the opportunity to explore it a rare privilege. The storage facility was particularly breathtaking, with aged barrels stacked from floor to ceiling, filling every inch of space. The staff were thorough in describing the meticulous process that goes into developing a great tasting product. The interior of the distillery also contained a wet bar area where we were fortunate to enjoy a tasting of all the bases. As you might expect from a brand with the pedigree of Havana Club, they were all exceptionally smooth.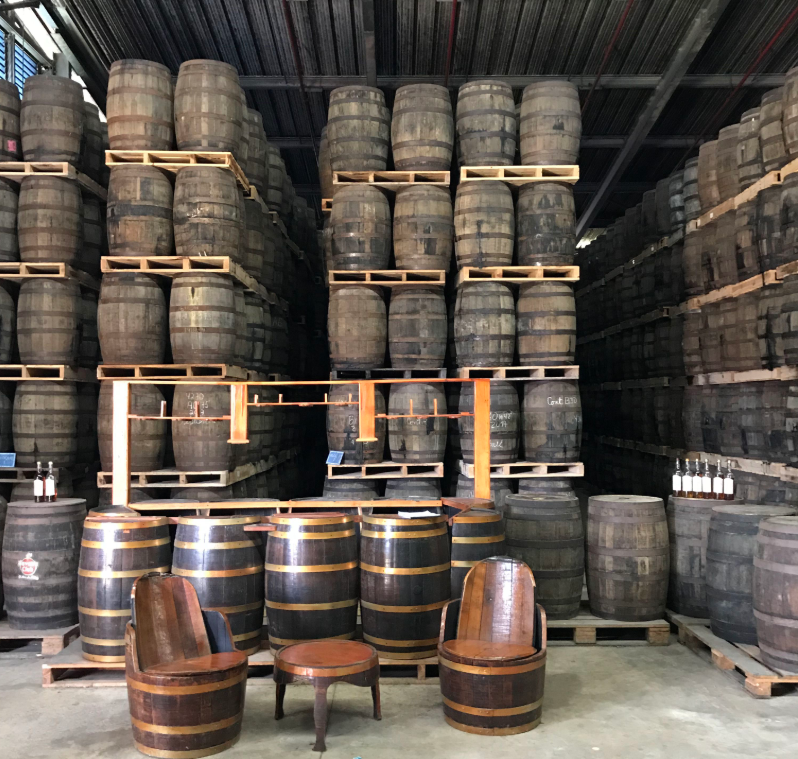 The next stop on our tour was the packaging building, where decorum and safety mandated the donning of full body suits. I was flabbergasted by the cleanliness of this place: I could not find even a speck of dust on the floor. We stood behind a line and observed the packaging process unfold from a distance. I found the rhythmic purity to be almost hypnotic.
With our tour now complete, our group was hosted in the home of a man named Rodolfo, who prepared soulful and authentic Cuban food for us with the aid of his wife. To this day, I am struck by the depth of their kindness and the extent of their generosity. Cuban people are naturally very sharing and giving, and this couple was certainly exemplary of that positive stereotype. We feasted around a large table together, paired cigars with rum, and exchanged stories and laughter. Consumed as we all typically were with the rapid pace of modern life, this was a chance to reconnect with the primal pleasure of sharing a meal. It's an opportunity I remain grateful for.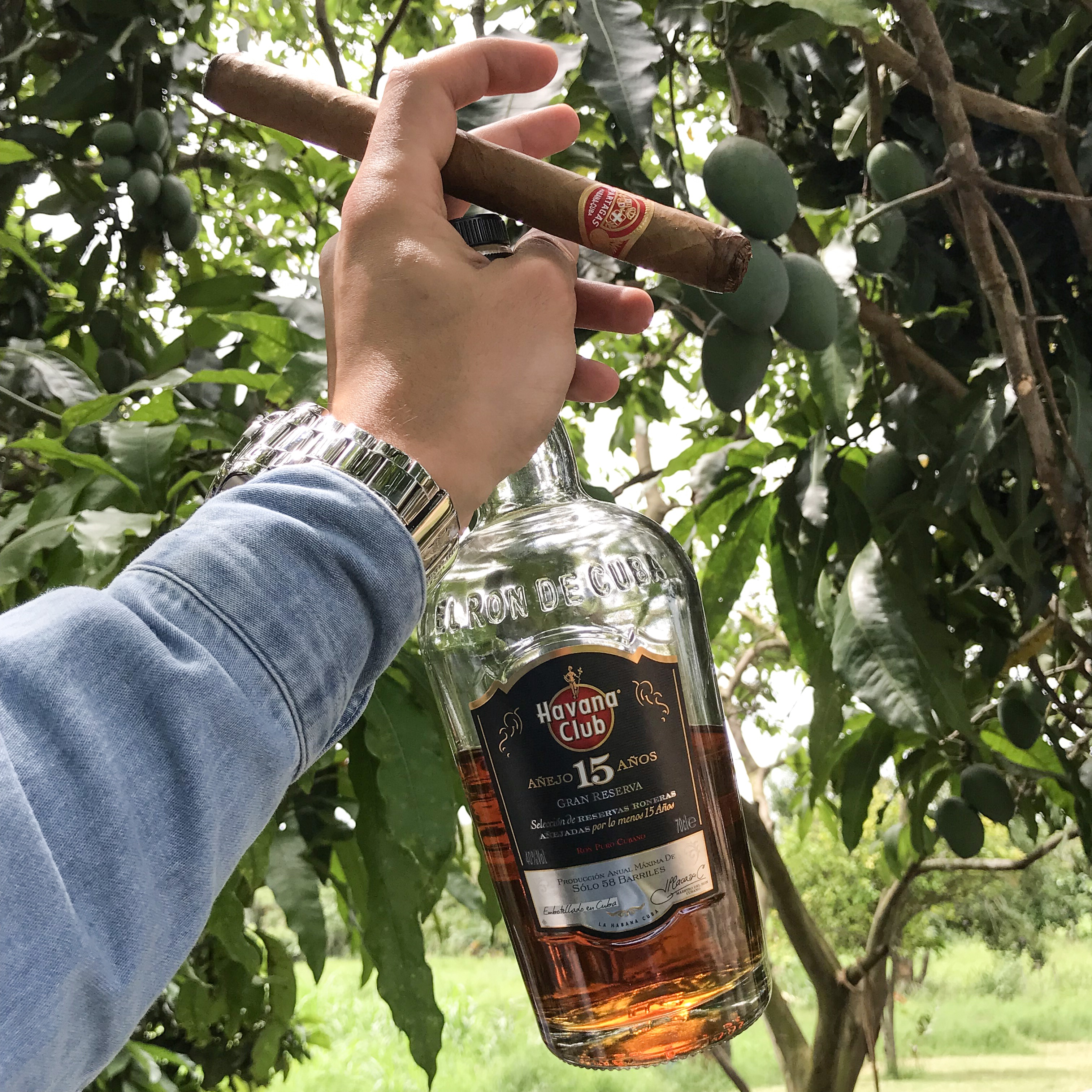 After lunch we made our way to the Havana Club Gran Prix Finals, at the Nacional Hotel. We watched as contestants from all across the world showcased their skills and creativity in creating the most unique and flavourful cocktails. To watch these artists at work brought goosebumps to my skin. I could relate to the passion that they poured into their work, their expertise parallel to the craftsmanship of a perfectly rolled cigar or a sublimely aged bottle of rum. These contestants were tried and tested in their field and what they were making was simply art.
We concluded our day back at the Kempinski Hotel, preparing for the Havana Club Gran Prix award ceremony and subsequent party at the Melia Cohiba Hotel. We welcomed the night with a cigar at the La Casa del Habano and took the time to savour a pairing of Havana Club before making our way to the after-party.
The Second Day
With a night of partying behind us, our group awoke at 9:30 am for a riveting Rumba dance performance. The show was held inside of a historic structure which had been converted into a dancing school. We enjoyed lunch at La Guarida Restaurant before embarking on a tour around Old Havana. While all of the scenery in Havana is absolutely breathtaking, the architecture deserves special mention for its eclectic mix of baroque, colonial, and modern influences. The soul of Cuba is its rich culture and strong roots: the Cubans have successfully maintained their traditional values and have not let hardship (economic or otherwise) douse their indomitable spirit. The streets were filled with people interacting, playing games and greeting everyone with a smile. Sometimes, Cuba can make you feel like you're travelling back in time. You are surrounded by old heritage buildings and vintage cars everywhere you go. It's such a surreal but enchanting feeling.
We stopped in, as you might expect, at Havana's tobacco museum. To all my fellow cigar connoisseurs, I give this place my full endorsement. Seeing the evolution of cigar culture first hand, you appreciate your passion for cigars that much more. The museum proudly displayed old bands from discontinued marcas, tobacco pipes, desktop humidors and more. A true educational experience and a can't-miss for the aficionado.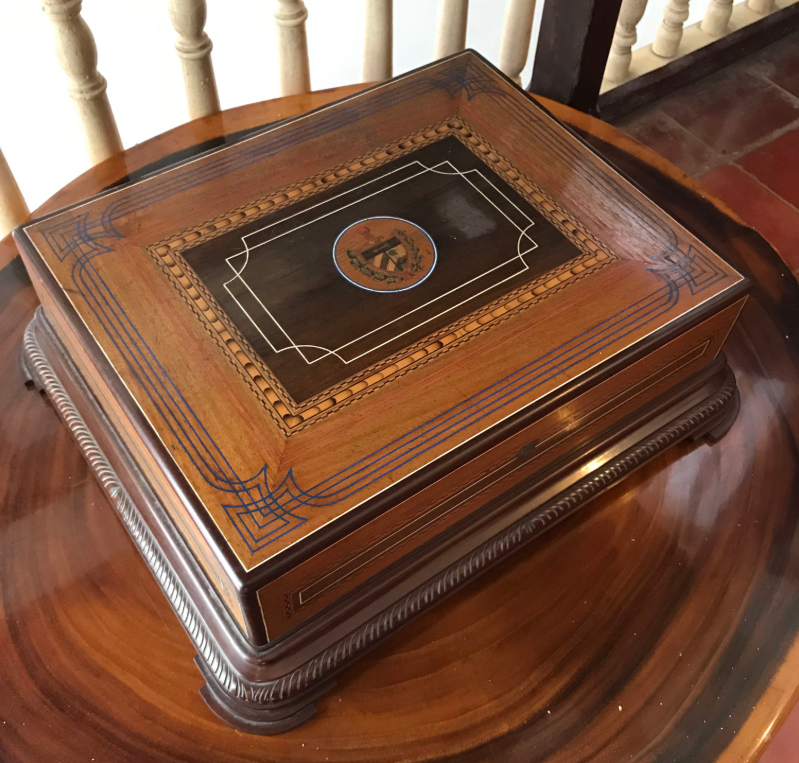 When evening once again came, we headed back to the Kempinski Hotel. We had dinner reservations at the Paladar Vistamar, which we learned is the hottest seafood restaurant in Havana. Looking out onto the azure waters from our table, I felt like I was in paradise. For dinner, we had the most flavourful lobster. Afterwards, we paired an exceptionally smooth Havana Club Rum with a Partagas - Maduro No.1 cigar. With the beautiful sunset as our backdrop, we drank, smoked, and listened to Fernando give a speech on the newly released 2018 Tributo Havana Club Rum. As the last stop for the night, we headed over to La Esencia Bar.
The Third Day
We spent the morning of the third day exploring a tobacco plantation called Hector's Farm located in Pinar del Rio. Our guide Michael led us on an immersive and educational tour encompassing each step of the harvesting, curing, and fermenting process. At the end, we had the distinct pleasure of pairing fresh farm rolled cigars with Havana Club Seleccion Maestro's Rum – a superb finish to an excellent morning.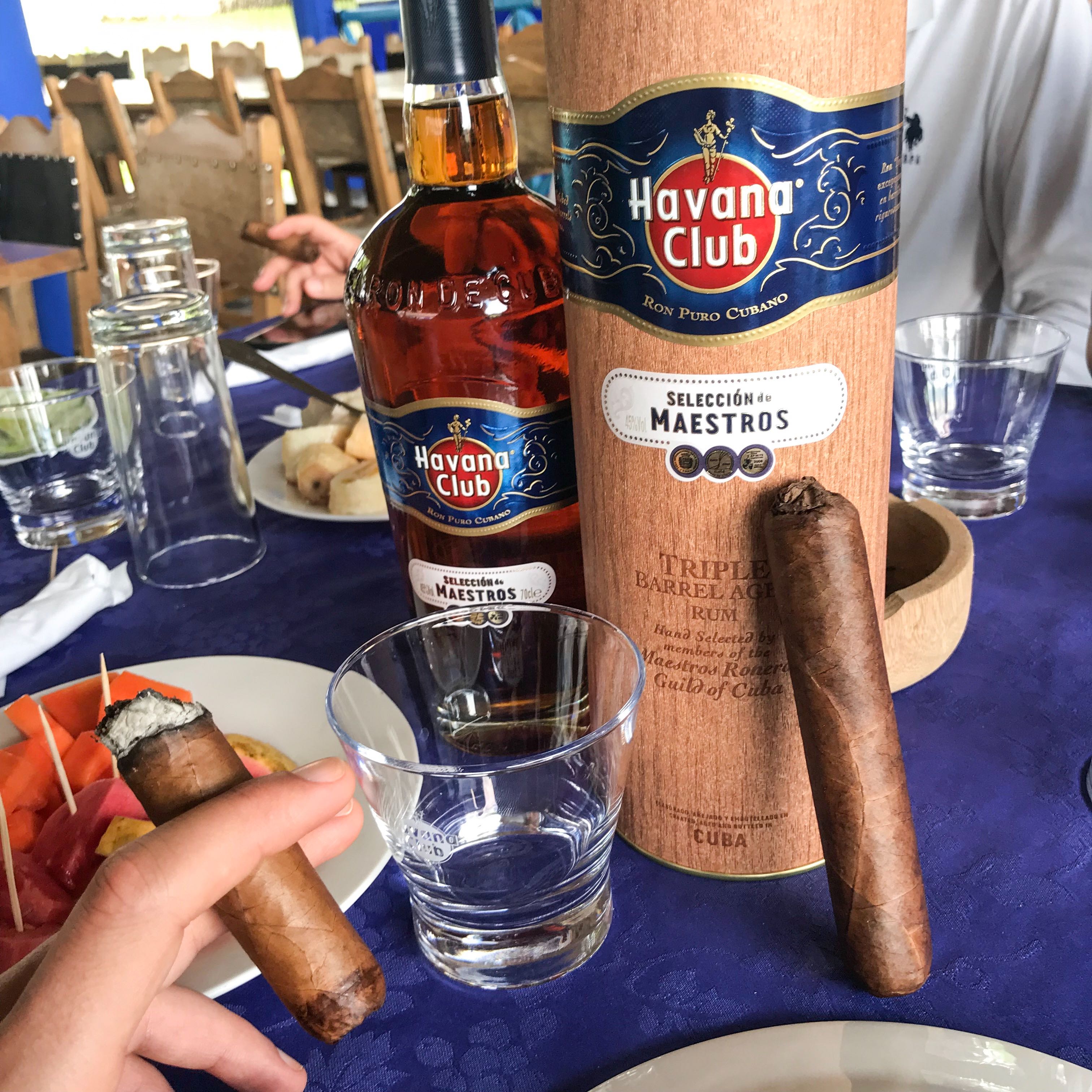 In the evening we had dinner reservations at Eclectico Paseo 206, an Italian restaurant located at 206 Avenida Paseo. We were joined by Asbel and Fernando: the visionary masterminds behind the 2018 Tributo Havana Club Rum bottle. It was such an honour to share a table and meal with them and I was lucky enough to come away with both a picture and signed limited bottle. Towards the end of the evening, each of us received a signet ring, officially marking us as part of the Havana Club family. At this point, the night could not get any better: we ate together, smoked the finest Cuban cigars, drank the best rum in the world, and enjoyed the presence of two incredible legends: Asbel Morales, Maestro Ronero for Havana Club, and Fernando Fernandez, cigar sommelier.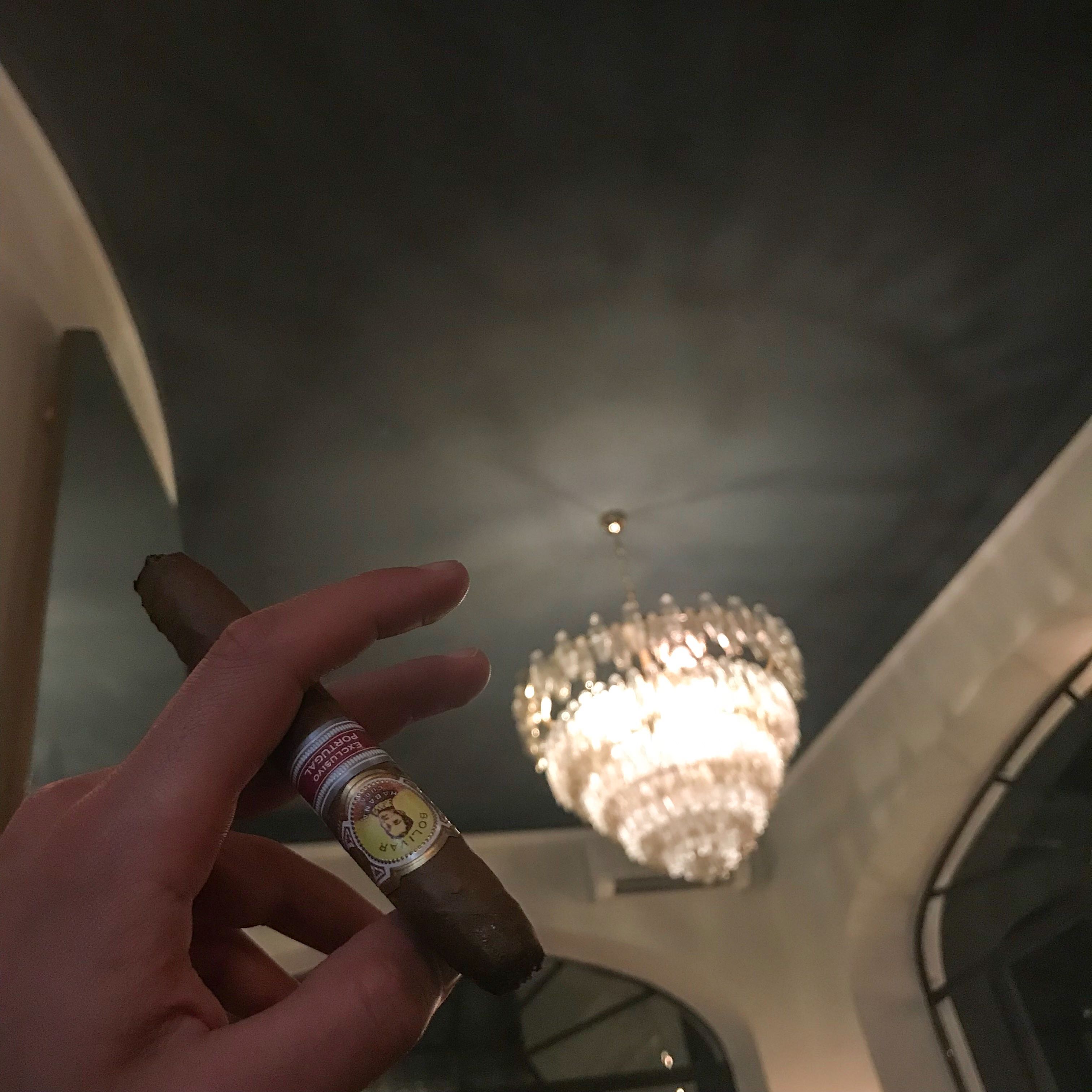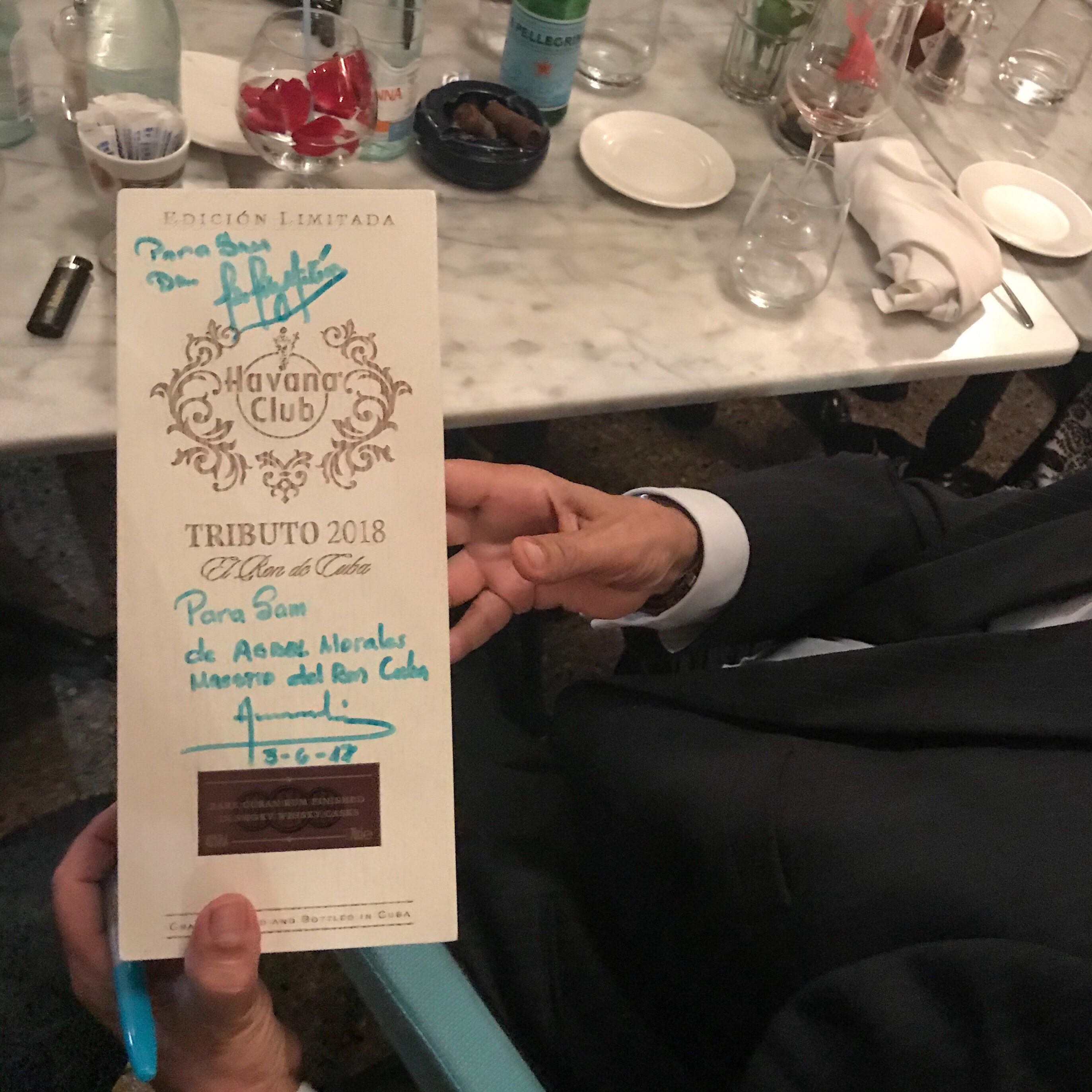 The Last Day
All good things must come to an end. On our final day in Cuba, we visited La Corona Cigar Factory and watched their expert cigar rollers work to produce the finest cigars in the world. Decades (if not centuries) of Cuba's cigar rolling pedigree came to life before our eyes. It was amazing to witness these craftsmen at work and to witness the origin of the cigars I have such a passion for. The end of the tour prompted bittersweet feelings: I was sad that my trip had come to an end, but grateful to have met the amazing people I did. As I reflected on my experience on the flight home, I realized what made this particular trip to Cuba so different: I came away feeling a connection to the deep passion that drives Cuba's storied rum and cigar traditions.
To my Havana Club family, it was such a pleasure to meet you all in person. I would like to thank Alexandr Gorokhovskiy and the whole team at Pernod Ricard for the wonderful experience and opportunity, I am truly humbled and grateful for the experience. Till next time!
Salud!